Rock & Rouge PR COVID-19 Update
FOR IMMEDIATE RELEASE
Event: The Rock & Rouge Women's Music & Food Festival & beyond
Company: Rock & Rouge Foundation Inc.
Contact: Caroline Giepert
Date: Monday, March 16, 2020
Phone: 504-523 6276 office
Email: info@therockandrouge.com
Monday, March 16, 2020 11:40 AM – Following the announcement of Governor John Bel Edwards last Friday afternoon banning all public events over 250 people, The Rock & Rouge Women's Music & Food Festival & beyond will not be held this upcoming Saturday, March 21st in Lafayette Square. While we are saddened and disappointed, we understand that public safety is the top priority and will continue to listen to and support state and local officials.
We will instead move forward with hosting this event in September 2020 in Lafayette Square. We hope to see everyone there in the fall to celebrate and empower all women in our community. Please stay tuned over the coming months as we will announce any updates and changes. Thank you to our community, partners, sponsors, donors, and everyone in this difficult time!
Please email info@therockandrouge.com with any questions.
###
BULLETIN: The Rock & Rouge has added the Charmaine Neville Band to the line-up on the "Women Who Rock" Stage.
The Rock & Rouge 2020 is here!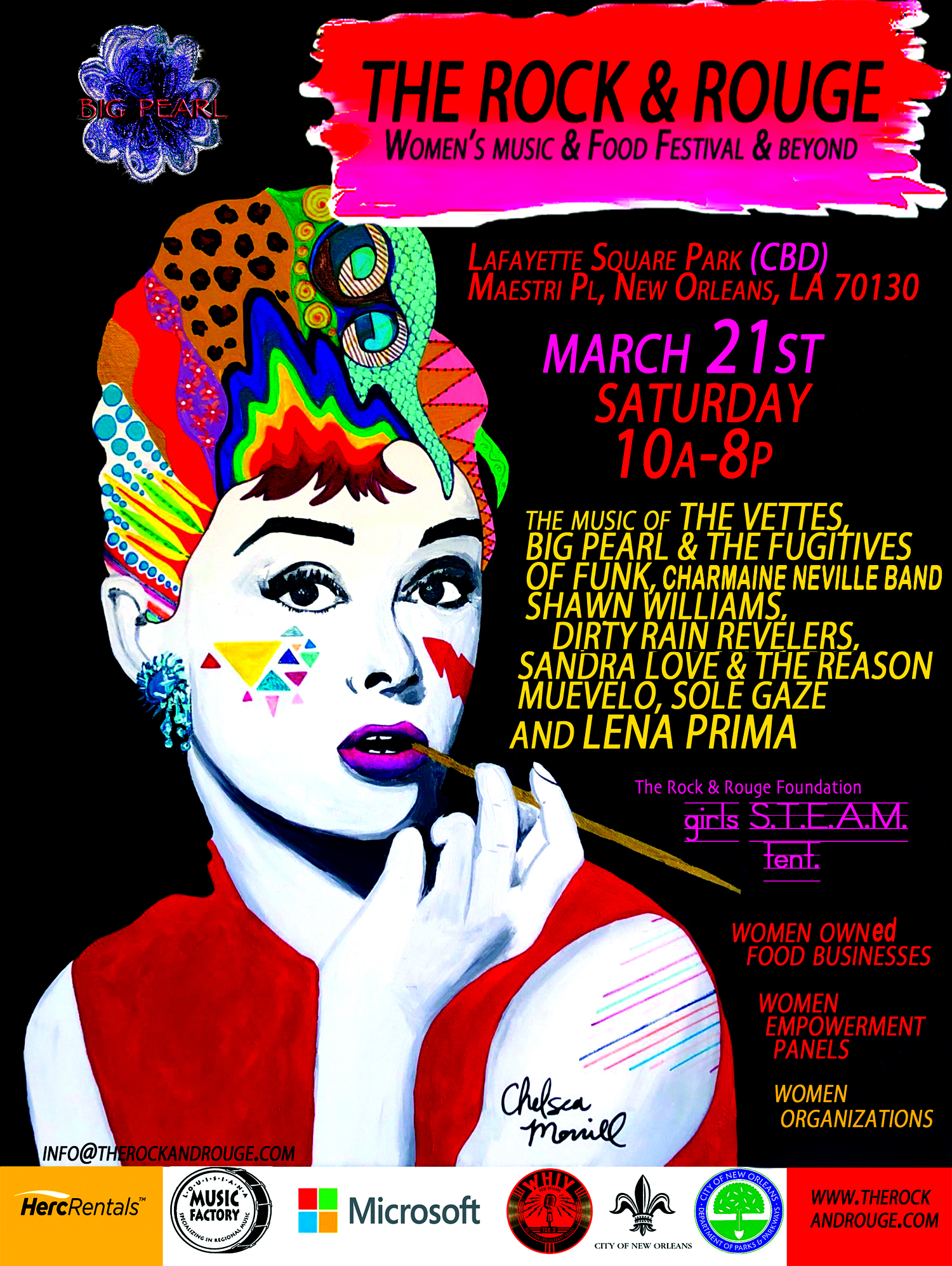 1/10/2020 Announcement:
Happy New Year everyone from The Rock & Rouge! We are happy to announce our upcoming women's empowerment festival and young girls Tomboy S.T.E.A.M. Tent founded by The Rock & Rouge Foundation, a 501(c)(3) non-profit. Again, this year we are having local Women Rock & Roll Bands on the "Women Who Rock" stage, Empowerment Panels, Women-Partnered Food Vendors. New this year, we are having women and health organizations tabling, like Women With A Vision, New Orleans Musician's Clinic, Planned Parenthood Gulf Coast, LikeMinded Ladies and many more. But wait – men we have something new for you this year in The Goldmine! Like "The Dugout" where we had the Baby Cakes mascot hanging out, this year we are introducing "The Goldmine"  celebrating New Orleans Major League Rugby's new home at the Shrine on Airline! We are welcoming rugby players to the festival to introduce everyone to this fast growing sport.
We are excited about the new location at Lafayette Square Park in the Central Business District (CBD) and are given a bright future here by the City of New Orleans Parks & Parksway. The official address is:
Lafayette Square Park S Maestri Pl, New Orleans, LA 70130
(sandwiched between Camp Street and St. Charles Avenue across from Gallier Hall.)
The Festival will be on Saturday March 21, 2020 between 10 a.m. – 8 p.m.
We can't wait to see ya'll out there!!
______________________________________________________________________
The Rock & Rouge 2018
Thank you one and all for coming out to the inaugural Rock & Rouge Women's Music & Food Festival. This empowerment of women was a great success. It couldn't have been so awe-inspiring without the support of our sponsors, panelists, food vendors, artists, musicians, volunteers, and of course you, the fans!
EXTRA, EXTRA READ ALL ABOUT IT:
For immediate release- June 15th, 2018
The Rock & Rouge Women's Music & Food Festival & Beyond has pushed its date from June, 16th to Saturday, June, 30th 2018 due to weather conditions and safety concerns.  We are still accepting volunteers and please email us if you'd like to participate to volunteers@therockandrouge.com. There will be a change in our lineup, but Irma Thomas is still our headliner! We apologize that we have lost Lynn Dury and Shawn WIlliams due to their tour schedule. Please look on their websites for their tour dates.
We hope to see you there!