The Vettes
THE VETTES
Put the rumors to rest The Vettes is, in fact, a family band, but don't be fooled: they don't line dance and their father did not lock them in the attic with the instruments as children. "in order to fully grasp the concept one must first dismiss the preconceived notions of all the real life and fictitious family band stereotypes we've all come to know and hate," says Rachel Vette, lead vocalist and sister. Rachel , Todd, Chad, Brian, and Mitch Vette collectively known as The Vettes are all sister and brothers with Mitch being "adopted" into the family as an honorary brother in 2005, a few months after he joined the band; they began performing together in their teens and early 20s as each sibling was individually enlightened with a passion for music within the same year. With influences ranging from one hit wonders of the 80's like Aha, and Flock of Seagulls to cult favorites Depeche Mode, Duran Duran, oasis, and Elastica, The Vettes is the first new wave/alternative/ rock outfit to come about in some time the actually makes you miss and appreciate the 80's. Since 2005 The Vettes have been making a mark on the scene of their hometown, New Orleans, La, and the U.S. and have releases countless untitled demo cd's before officially releasing their T.V. EP in 2008 and a full-length album PLASTICVILLE in 2010. Their next release is due out soon.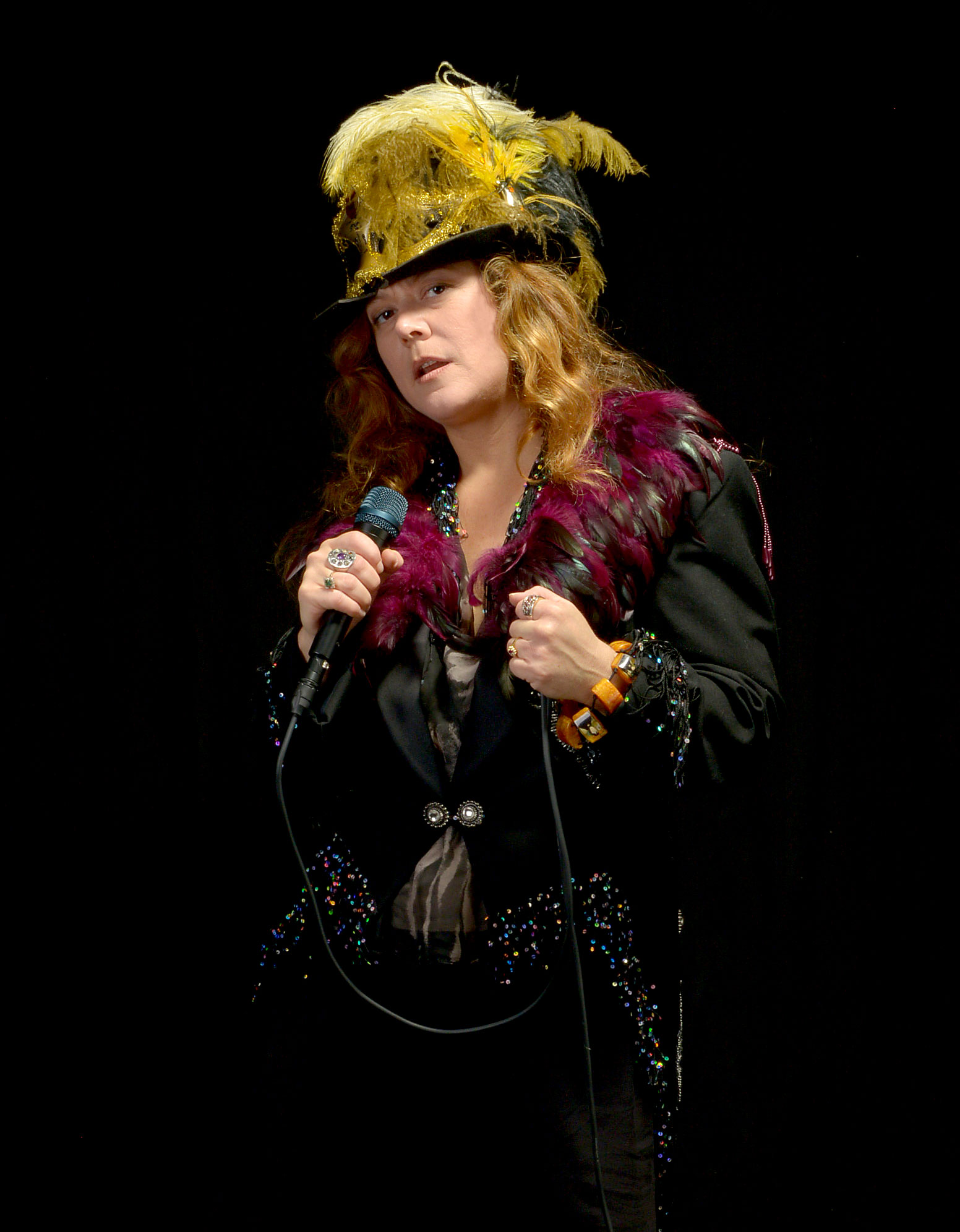 BIG PEARL & THE FUGITIVES OF FUNK
Lani Ramos, lead singer of her band, Big Pearl The & Fugitives Of Funk (BP&TFOF), moved in the summer of 2000 from Los Angeles, CA, to New Orleans, Louisiana (NOLA) and is now a premiere singer of original NOLA rock & roll. A member of the Musician's Union and Screen Actors Guild (SAG), Ramos a.k.a BIG PEARL has always maintained the name is a band name.
With a  Mezzo-Soprano vocal range, Ramos writes, co-writers original songs of her own and with counter part and lead guitarist, Michael Wheat. In the recording studio Ramos is credited in coming up with original lyrics for back-up parts on independent projects right on the spot while singing and arranging the songs. Her credits include duet/back-ups with Dave Sharp of The Alarm, LOVE UNDERSTANDING, Rudy Mills Caribbean Funk, SAINTS IN THE POCKET and New Orleans artists Johnny J &The Hitmen, Big Chief Alfred Doucette, Mike Hood and Billy Ding & The Hot Wings. Before forming BP&TFOF, Big Pearl credits include opening for New Orleans notable acts like Earl King, Kermit Ruffins, Bonerama and Frankie Ford. Over the years Ramos' solo credits include back-up performances with Frankie Ford at Tipitina's, James Andrews & the Crescent City All-Stars and Chili Groove with the Southern University of New Orleans Orchestra (SUNO) at New Orleans Jazz & Heritage Festivals. NOLA has no shortage of private parties and Ramos has enjoyed living room sing-a-longs with the great Fats Domino, Father Jerome LeDoux and Dr. John.
Since 2000, Ramos adds to her arsenal most all the clubs on Bourbon Street either with her band or as a gun for hire at clubs Tree Cou House '01-'03, Funky Pirate '04, Tropical Isle '04-'11, Snooks Bar '06, Krazy Korner '04, The Old Opera House '04-'07, Howl At The Moon '04, The Red Rhino '02 and a weekly 3-night stint at My Bar, 2008-2010. In 2001 Ramos' first single ARMS OF HEAVEN on compilation In Loving Tibute 9.11.01, was reviewed in Offbeat Magazine as the 'quintessential song illustrating feelings over questionable tragedy'. Through the years Ramos has performed regularly in Frenchmen Street music venues like Checkpoint Charlie's '00-'03, Hookah Café '03-'04, Blue Nile '02-'11, Café Brazil '03-'06, Apple Barrel '04-'10, Ray's Boom Boom Room '07, Café Negril 2007, Bicycle Michael's '01, d.b.a. 2006, Lazziza's '07-'08 and The John '03-'09. Off-shoot venues include Acadian Beer Garden 2001, Wit's Inn 2001, Howlin Wolf 2001, Silky O'Sullivan's 2002, Kim's 940 '03-'04, Bada Bing's '03-'04, Gennifer Flowers Kelsto Club 2005, Melvin's 2004, The Hard Rock Café Dead Rockers Brunch 2004, Tipitina's '03-'05, The Deck Bar 2004, Kajun's Pub '06-'07, Bud Rip's 2007, Turtle Bay 2009 and The Maple Leaf 2008.  One of many career highlights is performing the Janis Joplin segment at the 17th Annual Janis Joplin Birthday Bash & Gulf Coast Music Hall of Fame 2004 awards show in Port Arthur, TX where Ramos shared a stage with Archie Bell, Frogman Henry and Jivin' Gene. Ramos appeared on local news channels promoting her segment at the bash as the "Janis chick" and wound up selling out of her debut solo album, Scoot Boogie Baby's, Lani Ramos. Consequently, Ramos received write-ups in various local newspapers, like the Beaumont Journal, to welcoming reviews. With an in-store performance at Louisiana Music Factory back in New Orleans, Ramos received wonderful accolades online and was put into rotation on New Orleans public radio station, WWOZ 90.7 FM. From there more write-ups ensued from Biz Magazine, Louisiana Music Commission, and www.louisianamusic.org.
In 2005, Ramos joined a newly formed horn band where Michael Wheat was the lead guitarist. Big Pearl with Jake Legg & The Fugitives Of Funk opened regularly for Kermit Ruffins on Saturdays which started the "opening band" idea to the Blue Nile booker and owners because of its success. The band eventually received their own headliner slot weekly Tuesdays at the club. Up Frenchmen Street at Apple Barrel on Monday nights, Ramos cultivated an old time country/rock blues show singer/guitarist Ken Swartz. The band played sometimes until 4am with musicians sitting in all night long until Katrina. Meanwhile blown away from NOLA into San Francisco California, Ramos landed on her feet with regular weekly gigs at famed Biscuits & Blues music club. More newspaper write-ups followed in the Modesto Bee and San Francisco Examiner. In the Examiner Ramos is pictured between S.F. mayor Gavin Newsom and California governor Arnold Schwarzenegger on page 5, 'Who's In Town Today', advertising and promoting her shows in the city as a bluesy New Orleans singer.
Returning to NOLA, Mardi Gras, 2006, Ramos reunited with guitarist Michael Wheat and went on to co-write with Wheat 10 new original tunes calling the album BIG PEARL DOUBLE FACES. Ramos' self–produced New Orleans rock & roll album has songs with funky horns, organ and classic piano, and others, with pop/rock flavors. 3 years later the album was released unmastered at LA Music Factory as a beta copy. The following year the album went on to be mastered and released through Flying Colors out of Los Angeles as a downloadable album and is on sale at CD Baby, iTunes, Amazon.com & www.bigpearlandthefugitivesoffunk.com.
Currently, at the Blue Nile, BP&TFOF perform a weekly show on Monday nights playing songs off the album Double Faces. Fans enjoy originals, like, SHAKE THAT JUNK, IN THE N.O., and 1 LAST CIGARETTE, and also, with brand new originals, BIG BRASS BED, BOOTY IN THE BIG CHAIR and BORN TO LOOSE. Ramos is also a writer/producer/star of the band's music video "Shake That Junk" and television writer/producer/director/star of her own musical/comedy/variety TV show, YEAH YOU RITE! The show airs locally in the New Orleans area on New Orleans Access Television (NOA-TV), Channel 99 Cox Communications, Thursdays, 1:30 a.m. & p.m. Ramos showcases her skills not just in singing and dancing, but in sketch comedy too, with friends that are also entertainers. Big Pearl & The Fugitives of Funk are expanding their live shows with bookings around town and around the Gulf Coast.
Di NOLA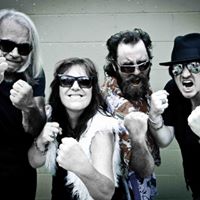 Di NOLA
 The female-fronted quartet DiNOLA will perform in New Orleans this February following the band's wide-release album debut Up High.
DiNOLA is a New Orleans-based rock band featuring Jimmy Ford on drums, Sue Ford on vocals, Eric Laws on electric guitar and keys, and Eddie Payne on electric bass. The band belongs to a rather eclectic genre which can be described as a re-imagining of heavy British Blues in a manner that echoes the rhythm and gothic voodoo of New Orleans.
Up High, produced by Dave Catching and mixed and recorded by Hayden Scott, features the "active rock sleeper" hit title track as well as a cover version of Screamin' Jay Hawkins' "I Put A Spell On You." The entirety of the album was recorded at Catching's Rancho Del La Luna studio in Joshua Tree, California, and features some guest guitar work by the producer. Lead vocalist Sue Ford hails from Boston originally, but became fully engrossed in New Orleans' music scene and formed her first all-female rock band Pink Slip and gained recognition as "Mardi Gras' First Rock Band."
DiNOLA  was born as a collaboration between Sue Ford and husband Jimmy Ford, a former bar owner and one-time manager for the dB's and Richard Hell. Ford says that she "would allow her husband Jimmy to become the band's drummer, a promotion from his previous duties as sound tech and roadie for Pink Slip."
The band is a hodgepodge of typical New Orleans residents; Ford herself works by day as a scenic artist in the film business. Collectively, they are an extended family of post-Katrina survivors with a familiar ardor for musical tandem.
Gina Brown
http://www.ginabrownonline.com/
Gina Brown
Gina is New Orleans' best kept secret….not anymore. She grew up in Mobile, Alabama. New Orleans has been her home base for the past 12 years.
She first started her career as a Radio announcer for WBLX-AM/FM in Mobile. That's where she started singing commercial jingles. From there her career as a vocalist took flight.
From family functions (which is where it really all started) to wedding ceremonies, underground jazz clubs, outdoor festivals, 5 star hotels and international tours.
After moving to New Orleans she began singing with jazz violinist Michael Ward and still to this date shares the stage with him. She is featured on his first CD.
Gina recorded her first CD while on tour in Bangkok in 2002. Self titled "Gina". She is on the compilation CD "Fulton Street Live" produced by Harrah's New Orleans. Currently she has released a single entitled "Cant Stop Thinking Of You" and a Live CD with her band Anutha Level, which are both available now.
Gina's shared the stage with many artist like, Gerald Levert, Jon B., Pattie Austin, Earl Turner, Fantasia and Ruben Studdard from American Idol…..and let's not forget her favorites, Bad Company, Roberta Flack, Etta James, Regina Belle, Ann Nesby, the legendary Billy Paul. Her musical style varies from Blues, Jazz, Motown, Pop, Oldies, Hip-hop, Funk, you name it.
Gina's exciting, exhilarating performance has been seen all over the world. Her travels include: Brazil, Taipei, Taiwan; Yokohama, Nagoya, Tokyo, Iwakuni, Japan; Hong Kong, Bangkok, Jakarta, Indonesia and also a tour in the Middle East Abu Dhabi and Dubai. Her performance is guaranteed to be a memorable one for anyone who sees her.
Experience "GINA"
Summer Fits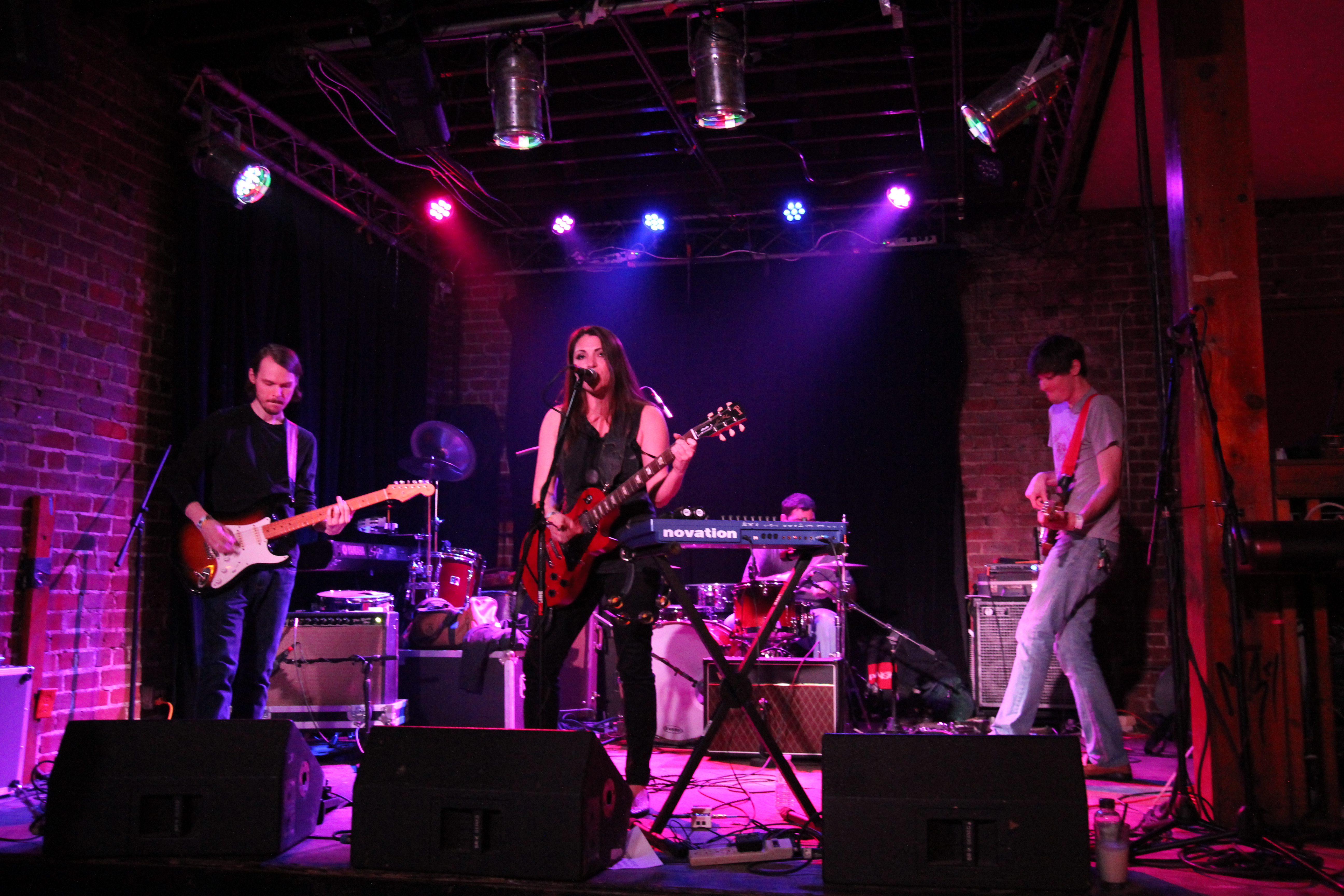 https://summerfits.bandcamp.com/
Summer Fits
Summer Fits is a four piece 90's rock-inspired project led by singer/songwriter Melissa Eccles. Under a previous Indie Pop Rock project called We Landed on the Moon! (WLOTM!), all former members played festivals including Jazz Fest, Voodoo Fest, SXSW, and CMJ Music Festival in New York. They produced three albums charting twice in the College Music Journal, and opened for acts including Train, B52's and Arcade Fire before parting ways in 2011.
In the later months of 2014, several former members of WLOTM! came together to form Summer Fits. They released a small self-titled EP that was named one of the top 20 albums and EP's to listen to in August of 2015 by adammarxsmind.com. After breaking for a couple of years to refine their sound and attend to life demands, they are excited to debut their new project in New Orleans!
Summer Fits is inspired by 90's female fronted rock, with elements of power vocals from the 80's and indie rock inspired guitar riffs of the 2000s. They are currently working on a new album.
Frenchie Moe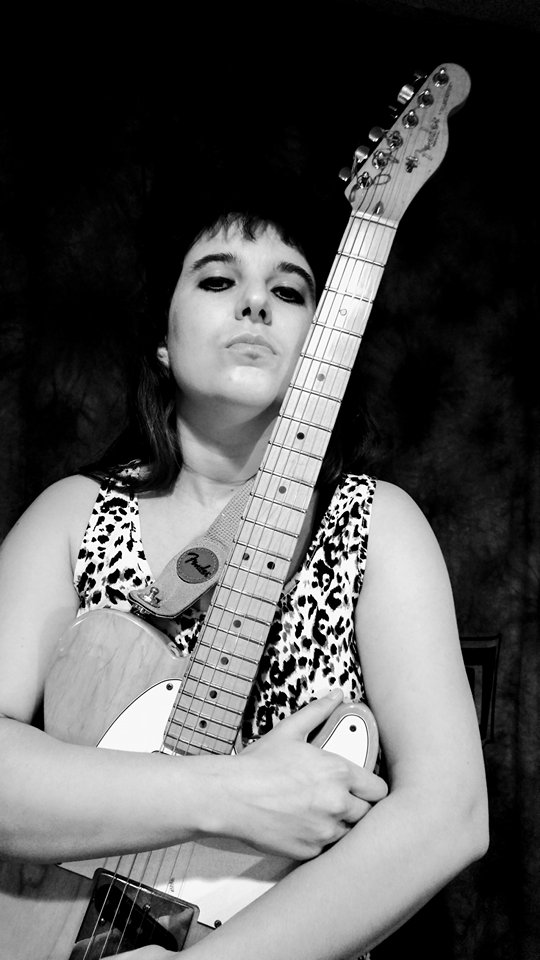 FRENCHIE MOE
Frenchie Moe was born in France, in 1986. Passionate about Blues guitar and vocals at age 8, she was mentored by British bluesman Victor Brox, whom her father had befriended in a local club. She got to perform in Victor Brox's band as a teen, hitting her first stages at 12 and starting her first serious band at age 15. She then moved to the USA at age 19, working odd jobs with the hopes of infiltrating the music scene. After 5 years in the Midwest, multiple musical projects, and the mentorship of late bluesman Creighton Holley, ex member of the Chicago Rhythm Kings, she finally moved to her dream city of New Orleans. There she formed a new band and was blessed to write and collaborate with a couple of Louisiana Music Hall of Famers, the late Coco Robicheaux, and the legendary Walter Wolfman Washington.
Goblin Marquette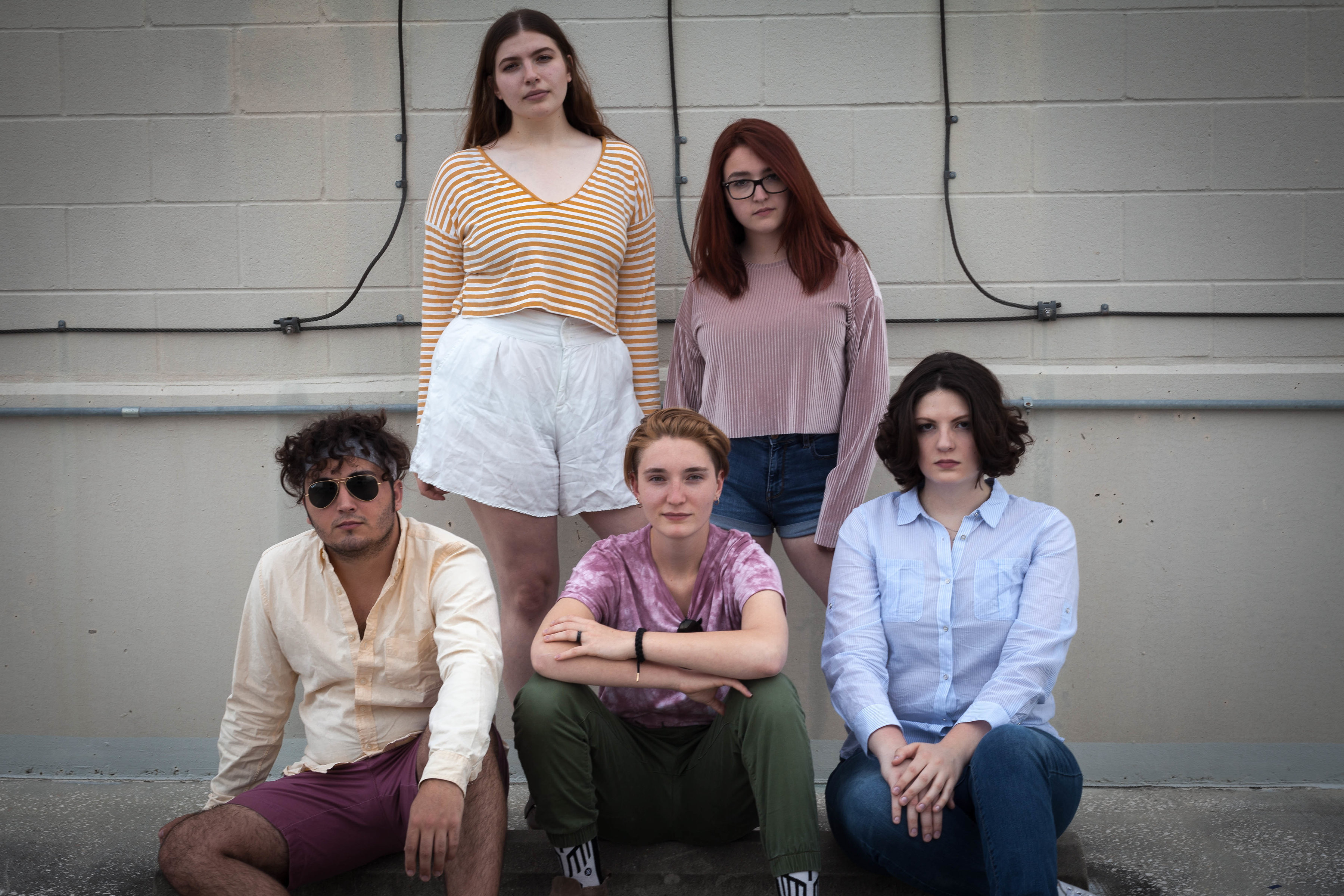 GOBLIN MARQUETTE
Goblin Marquette is a cross-genre band that plays alternative/folk rock original songs and a few covers. The group comes from a variety of backgrounds, with a jazz tenor sax player, a punk drummer, a classic rock guitarist and bassist, and a folk singer/songwriter. These artists merge to form a complex and passionate sound, withcomparisons including Florence and the Machine and the Alabama Shakes, as well as other alternative and rock artists.  You can check out their cover of House of the Rising of Sun by the Animals at https://www.youtube.com/watch?v=WkmCUGvln3c
MORE ANNOUNCEMENTS COMING SOON